Company Introduction
Etisalat is the largest telecommunications company in the UAE. Etisalat is a service provider company which provides newest technology in terms of eye catching offers on all its products and services like phone lines and cellular phones at very attractive and focused prices. As it is related to technology so the company required high initial investment and thus initial costs of the company remains very high. If we compare costs and revenues then also initially the costs would be higher but later on it adjusts its value.
Statement of the Marketing Goal
Etisalat Company is basically focusing over expansion strategies these days and thus all its strategies are focused on such strategies. For expansion company is focusing over brand awareness marketing techniques and for that they have tried to manage the company marketing strategies in a new and innovative manner.
SWOT Analysis
Strengths
• The company is facilitated by the huge capital investment as it provides the latest technology similar to the satellite service.
• The clients were allowed by Satellite technology to utilize their services anywhere. This particular attribute will be extremely constructive to users which may be oil engineers who basically travel towards separated areas for the sake of work and secondly the businessmen who makes tour outside the country.
• It basically offered enhanced customer service whose aim is to inform customer about his system as well as it also provide the customer with those services which was desirable by him.
• Installments and periodical payment options allow the clients to get cheaper services.
Weaknesses
• High initial expenses.
• Employees working in Egypt might not have enough know-how about the new technology.
• Non-awareness of telecommunication technology in the environment.
Opportunities
• Growing businesses let the coverage of networks to increase in far area.
• Low waged employees are available so company can utilize that.
• The significance of cellular phones to Egyptians socio-culturally.
• The comparatively high political constancy in Egypt allows the institution and persistence of international businesses.
Threats
• Low purchasing powers of clients.
• Competitor's strategies.
• Economic recessions happening in the world.
Who are competitors?
Major competitors of Etisalat are as follows:
• Vodafone
• MobiNil
Both these competitors are working well and thus they are to be considered while designing any marketing campaign. MobiNil is a national company, whereas Vodafone is a multinational company.
Marketing Objectives for the Project
At present Etisalat is considering product innovation because of the fact that client don't have much time today, while using electronic media for promotion.
Overall Objective
• To be the company with the highest market share in cellular phone network coverage business in target market segments within next five years.
• To accomplish a revenue of 500 million pounds after a period of 5 years.
Strategic Objectives for Every Primary Objective
Strategically company's is focusing over expansion and for that company might go for mergers acquisitions and such other things. So organizational point of view, expansion is main focus as it is expanding its services all through different countries of the world.
Target Market Segments
Basically the target segments which Etisalat targeted were segmented into several different groups. For example in demographics the things which were considered included gender, literacy, custom & traditions, income and all those people who had enough purchasing power along with the product knowledge were targeted by Etisalat. While in geographic segmentation people living in cities, people living in urban areas, people working in remote areas all were targeted and different products were offered to them.
Marketing Mix
Product
Etisalat has several different product categories which it is offering to its clients, list is given below.
• Etisalat Real State
• Tamdeed Projects
• Etisalat Information Services
• Etisalat Academy
• Emirates Data Clearing House
• e-marine
• Etisalat Facilities Management
• Ebtikar Card Systems
Price
As tough competitor's exists in the market so Etisalat has to decide prices keeping them in mind. So for convenience following table has been decided to show the prices of Etisalat as compared to its competitors.
Place
Placement of the product is planned very wisely by the marketing executives of Etisalat. They have decided to place their product throughout the major retail outlets and then the company has its own outlets as well to place the product at their own shelves.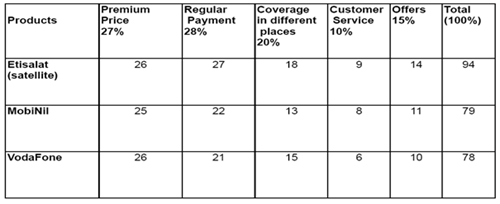 Promotion
Their promotion is basically based on few things which majorly includes that the product is cheaper, available in periodical payments, and provides more offers for new subscribers. The product is available everywhere in the world, provides better coverage, with the highest technology available in the world, and is more suited to the needs of the customers, saving their time and effort. Promotion is done through online marketing, website, TV ads, Newspaper ads and direct marketing techniques.
Main strategies

1. Market Penetration
Since principally the product presented by Etisalat is previously open and recognized in the market, we will have to expand a room in Egypt by contributing the similar class of service with a lesser price. Since the standard Egyptians income is not high as Europeans and Americans, it is very suitable to improve a price endorsement tactic for our major product in order to magnetize them.
2. Market Development
Etisalat has been the best example of market development in telecommunication retail industry. They have been focusing expansion strategies thus they have been developing their market day by day by opening new outlets and moving in new markets.
3. Diversification Strategy
The diversification strategy will aim at a detailed section of people as it will be used to encourage our product in the market. Diversification strategy will follow the scheme where the same products would be offered at much higher rates.
Monitoring and Control
If the marketing strategies are to be controlled properly so the company has to follow some monitoring and control tools to make the system working and going. One of the most significant aspects to pursue is the percent attained of the stated objectives. A statistical form has to be allocated to the aim and then endlessly referred to in order to know the routine of the company.
Budget
Marketing budget of Etisalat is planned and finalized every year when marketing strategies are presented in the board meetings and then approved. Following table shows the budget scheme for the year's marketing strategy.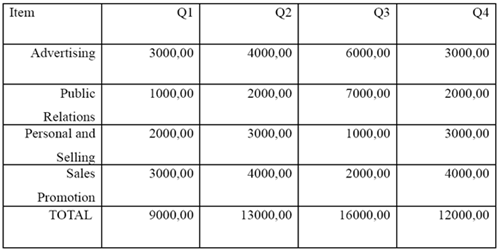 References
• "Etisalat Services Holdings" Official website: http://www.etisalat.ae/index.jsp? Retrieved: 1st August 2011.
• "MobiNil" Official website: http://www.mobinil.com/roamers/travel/awards.aspx Retrieved: 1st August 2011.
• Etisalat, Official wesbite: http://www.etisalat.ae/index.jsp Retrieved: 1st August 2011.