What is marketing? This important question clicks in our minds while observing any advertisement. Marketing is actually a way that leads towards affection, attraction and appeal us to buy that particular product. Basis of marketing lies in the core strategies and techniques that organizations follow in order to retain their customers and to gain better outcomes. Fundamentals of marketing aims to apply latest technology based strategies attract customers by various innovative ways and trying to appeal them towards the generated products or services. In any organization, customers are not the main source with the help of which organization can generate effective outcomes. Apart from customers, financial status, labor, raw materials, processes and many other sources are also dependant on best quality. No organization will suffer on quality and no organization will compromise. Their target is to make their generated products and services essential and lucky for them in order to surpass all the obstacles and to obtain high position in the industry.
Below mentioned flow diagram will explain you the fundamentals of marketing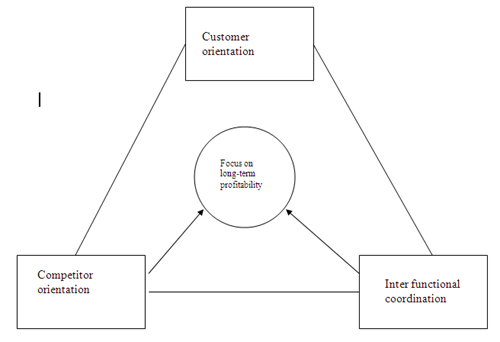 Source: http://www.oup.com/uk/orc/bin/9780199266272/palmerch01.pdf
Customer Orientation
Every organization must have a deep and thorough concept about their targeted customers. When any organization is well aware from its customer's feelings, needs and demands, then products or services can be created depending on their customers needs. This is an important area because if customers get according to his/her needs and demands, then outcomes can be generated in an effective manner. Customer orientation requires the organization to understand the present as well as future value of the customers. If an organization effectively understands about the customers, results can be created in a positive direction.
Competitor Orientation
Along with customer orientation, competitor's orientation is also known as an essential area that needs a lot of understanding and work. When an organization is working by focusing on its customers needs and demands, it should also look what actually their competitors are doing, how they are working and what kind of strategies they are suing. By this they can create effective outcomes and can have an edge over their competitors.
Inter-functional Coordination
Apart from customer and competitor orientation, internal coordination is an essential area that needs a lot of attention. While working in any organization, if mutual coordination is there, people are working by understating needs of every other employee then work can be done in a friendly manner.
Thus, marketing fundamentals are vital for every organization in order to make it something different, unique and special.
References
Website: http://www.oup.com/uk/orc/bin/9780199266272/palmerch01.pdf